About Trevelen
What makes Trevelen so special, what sets it apart from other guest lodges.
In brief :
style, class, comfort, and personal attention. And location
In full:
Trevelen is quite simply the most elegant and stylish acommodation in Ixopo - eclectic yet classy décor, magnificent food, and impeccable personal attention.
Merredy and Esmé, who own, manage and run Trevelen, will make you feel very welcome at their lovely place. There is a large and comfortable lounge for you to sit and relax, or watch TV, and another smaller lounge where there is always coffee and tea available.
Each room is exquisitely decorated following a theme (see HERE) by Merredy, who is a local institution in the field of presentation and fashion.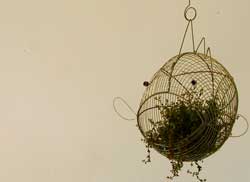 She has also been highly commended by qualified gourmet / cordon bleu chefs, despite having no formal qualification in that field.
Despite being the B&B closest to, and most accessable from, Ixopo town, it is also as quiet and peaceful as the most remote. Large gardens and old trees surround it on every side, giving the feeling of a relaxing haven. An abundance of birdlife adds to the relaxing atmosphere. As you're sitting in the beatiful garden, you might indeed spot yellowbilled kites, gymnogene, Burchell's cuckoul, longcrested eagle, hoopoes and even the elusive buff-spotted flufftail!